Welcome to Salem United Methodist Church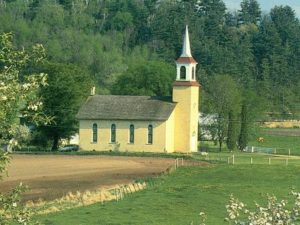 In the mid 1800's many families arrived in this area from Germany. They settled in the valleys of Monroe County on lands purchased from the US government, these valleys became known as Metzgar's Valley, Moore's Creek, and Spring Valley. The church played a very central role in the lives of these early settlers, and many of these German speaking immigrants had attended the Evangelical or Reformed churches in the old country. The neighbors in the valley worked together and wanted to worship together.
This congregation had its beginnings in 1856 with a small log church being erected in 1863. By 1875, a second and much nicer yellow brick church was built. The history of this church has been written for each milestone celebration: 50th anniversary in 1906, centennial anniversary in 1956, 150th anniversary in 2006, and has been preserved on this web site.
Much has changed since the congregation was formed. Services that were once conducted in German are now in English. Kerosene lanterns have been replaced by electricity, and horses and buggies on the church lawn have been replaced by cars. But, the generations of memories of Sunday worship services and special life events celebrated in this building with family and friends will never change.